Do It Special Function Spray Paints
DO IT PLASTIC/VINYL PAINT
Is an Elastomeric Coating to match, restore or change the color of most vinyl & leather surfaces, flexible and rigid plastics, suitable for lettering awning and canvas. PLASTIC/VINYL PAINT is not a dye but a fade resistant, flexible and permanent paint coating.
Note: Private label also accepted.
Coverage: 1.8-2.5 m2 (400mL)
COLORS
Nasca Off White,
Nasca Black, Dakota Biege,
Dakota Grey, Aubum Maroon,
Truffle Brown.
UNIT SIZE
QTY/BOX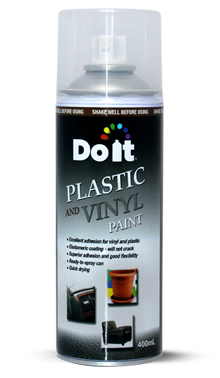 ELECTRICAL VARNISH/SEALER
Air-drying insulating coating for the treatment of coils and armatures. Outstanding resistant to corrosion, moisture, heat, acid and dust. Features arc resistant of 480 seconds, dielectric strength of 1500 Volts/mil (dry), and heat resistance that can withstand continuous temperature of up to 135 degrees centigrade for months. Although primarily an air-drying varnish, the oil, moisture, acid, and salt water resistance are greatly improved by baking. CFC Free.
Note: Private label also accepted.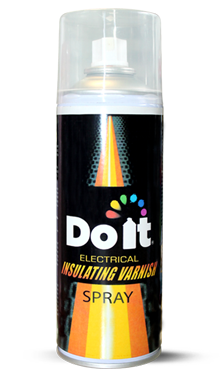 Do It Special Effect Spray Paints
You  can  use any basecoat (Solid or Metallic Colors) and  allow  the  painter  to  create  and enhance  the  visual  impact  of  existing  colors and  help unleash  the custom colors of your imagination.
Note: Private label also accepted.
Coverage: 0.7-1.0 m2 / can (400mL)
COLORS
Black Currant Candy
Deep Blue Candy,
Blueberry Candy
Chocolate Candy
Mint Candy
Orange Candy
Tangerine Candy
Watermelon Candy
Cherry Candy
Apple Candy
Raspberry Candy
Strawberry Candy
Grape Candy, Mango Candy
Honey Candy, Lemon Candy
UNIT SIZE
QTY/BOX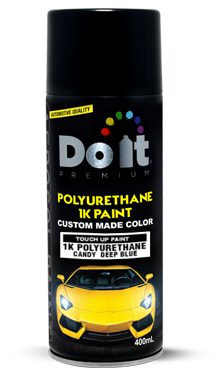 You  can  use any basecoat (Solid or Metallic Colors) and  allow  the  painter  to  create  and enhance  the  visual  impact  of  existing  colors and  help unleash  the custom colors of your imagination.
Note: Private label also accepted.
Coverage: 0.7-1.0 m2 / can (400mL)
COLORS
Black Currant Candy
Deep Blue Candy,
Blueberry Candy
Chocolate Candy
Mint Candy
Orange Candy
Tangerine Candy
Watermelon Candy
Cherry Candy
Apple Candy
Raspberry Candy
Strawberry Candy
Grape Candy, Mango Candy
Honey Candy, Lemon Candy
UNIT SIZE
QTY/BOX