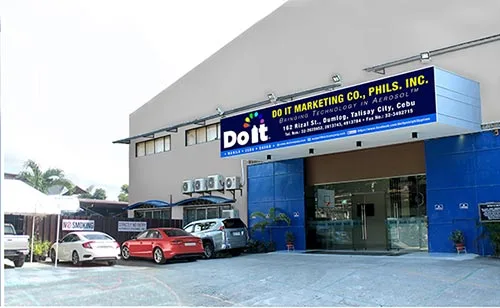 DO IT MARKETING CO., PHILIPPINES INC. is a family-run company founded by MR. LAVERENTI R. GIL in December 2001 in Cebu City, Philippines. With 14 years of valued experience, he became an expert in the field of aerosol spray paints. He started his love for aerosol paint when he became a commission-based salesman responsible in promoting aerosol spray paint products in Visayas and Mindanao of a well-known Japanese paint company in 1986. The Passion, Honesty, Hard work and Dedication to his job, prompted the Japanese company to appoint him as Cebu Branch Manager and eventually promoted to Trade Use (TU) Marketing Director in Luzon, Visayas and Mindanao before he left the company in 2000, to pursue better opportunities through entrepreneurship.
DO IT Company is a quality driven, innovative leader in the custom-made aerosol touch-up paint industry and is the Philippines' first manufacturer and supplier of premium custom-made aerosol touch-up paints, widely used in various industries such as Coil Coating, Appliances, Aluminum Frames, Composite Panel and Claddings, Motorcycle, Air and Sea Crafts, Furnitures, Bicycle, Building and Construction, Automotive and DIY sectors and many more. The company also engaged in manufacturing of premium quality 1K and 2K automotive paints and other related products and continuously strive to bring new and innovative products in the industry. They also specialized in creating unique and top-of-the-line special effect paints.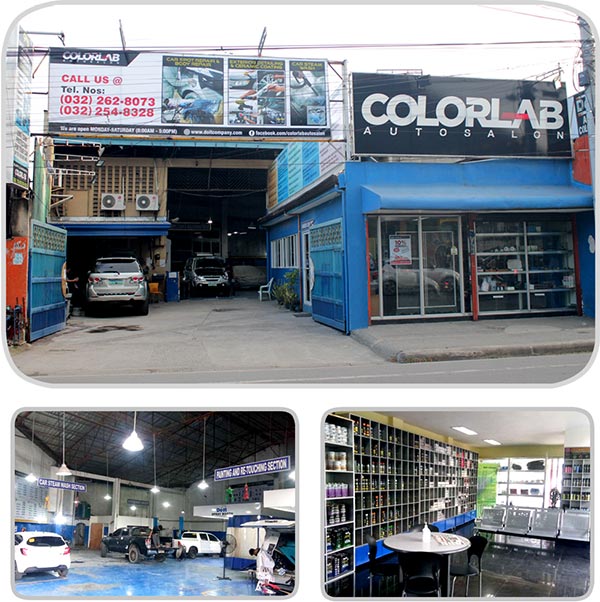 In 2004, DO IT expanded its operation to Metro Manila, Philippines to serve the growing clients in Luzon with a Branch Office and a production facility. In 2011, the company expanded its product portfolio to include the manufacture and supply of Industrial & Automotive Refinish Paints which widened its industry and customer reach to export aerosol products to India, Malaysia and Singapore. The company opened its first and unique retail concept store and painting services, "Colorlab Autosalon" in Cebu City in 2013 with future-plan for franchising. In the same year, the expansion of Branch Office and Warehouse in Sto. Tomas, Davao Del Norte to effectively serve customers in Mindanao market.
The company is the sole importer and distributor of PAASCHE Airbrush & Industrial Painting Equipments from USA since 2011. In 2015, the company signed a contract with ROBERLO SA, SPAIN as the Exclusive Importer and Distributor of High End Automotive and Industrial Paints including Ancillary Products. In 2018, an exclusive distributorship agreement was signed with Carborundum Universal Murugappa India (CUMI) to distribute Bonded and Coated Abrasives in the Philippine market as well as exclusive distributorship agreement signed with Scandex AG in Germany to distribute Corrosion Protection Oil, Multi-purpose Oil, Gun Oil, Shotgun Oil and other heavy duty specialty oils for corrosion protection and maintenance. In 2019, ALL CHEM Srl in ITALY appointed Do It to be the sole importer and distributor of Premium Grade Polishing Compounds under the brand name of VIRTUS for distribution in Philippine market.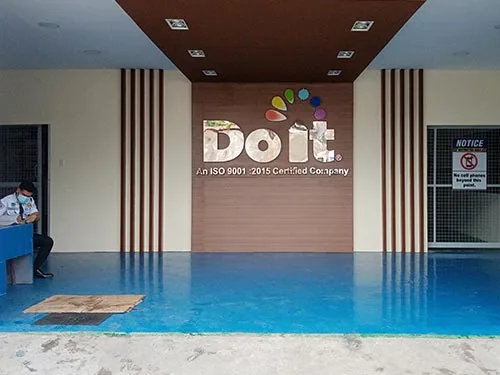 To date, the company has further expanded its product portfolio offering not only aerosol products, but also Premium Industrial and Automotive Refinishing Paints from start-to-finish such as Abrasives, Body Fillers, Primers, Top-Coats, Thinners and Degreaser, Polishing Compounds, Painting Equipment and Accessories, Polishing and Sanding Machines and accessories, PPE's and many more. The company has an extensive reach of approximately 3,000 dealers and Resellers and over 300 Industrial End User's nationwide.
The company obtained an ISO 9001:2015 Certification in 2017 which guarantees the compliance of the company's processes with Quality Management System standards adopted worldwide.
The company is also a member of the Cebu Chamber of Commerce and Industry (CCCI) since 2005, and is Dun & Bradstreet (DUNS) registered.