What are Clear Coat paints?
Clear coat is a type of paint or resin that is applied over a base coat of paint to provide a layer of protection and a high-gloss finish. It is typically used in automotive and marine painting to provide a glossy and durable finish that can withstand exposure to the elements and protect the base coat from fading, chipping, and peeling.
It is important to follow the manufacturer's instructions when applying clear coat paint. Additionally, it is recommended to work in a well-ventilated area and to wear protective gear, such as gloves and a mask, to avoid exposure to harmful chemicals.
MEDIUM SOLID 2K POLYURETHANE CLEAR (Ratio: 4:1)
RFU (Ready For Use)
A high-gloss medium solid, 2-component clear coat with very high resistance to petroleum, UV rays and weathering. Dries quickly, with very good flow and easy polishing for high-quality and long lasting sealing of repairs and new paint jobs on vehicles and motorcycles.
Note: Private label also accepted.
Coverage: 10 m2  / Liter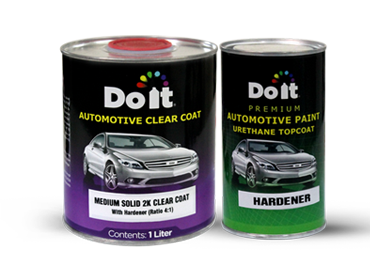 HIGH SOLID 2K POLYURETHANE CLEAR (Ratio: 2:1)
RFU (Ready For Use)
A high solid, 2-component clear coat with very high gloss, good resistance to petroleum, UV rays and weathering. Dries quickly, with very good flow and easy polishing for high-quality and long lasting sealing of repairs and new paint jobs on vehicles and motorcycles.
Note: Private label also accepted.
Coverage: 10 m2  / Liter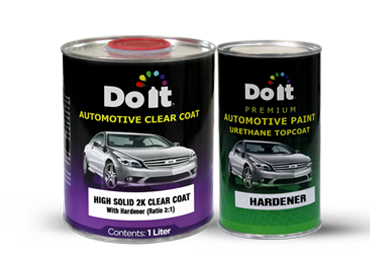 PREMIUM 1K ACRYLIC CLEAR COAT
RFU (Ready For Use)
A one component pure acrylic clear coat based on a special resin technology exclusively formulated to provide high gloss finish over base coat/clear coat application. It has fast drying properties, good flexibility, excellent flow, high gloss, U.V. resistance and non-yellowing effect.
Note: Private label also accepted.
Coverage: 10 m2 / Liter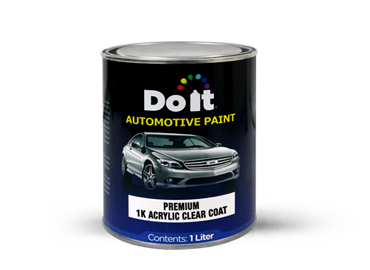 ECONOMY 1K ACRYLIC CLEAR COAT
RFU (Ready For Use)
A 1K pure acrylic clear coat based on a special resin technology exclusively formulated to provide high gloss finish over base coat/clear coat application. It has a fast drying properties, good flexibility, Excellent flow, high gloss, and U.V. resistance and non-yellowing effect.
Note: Private label also accepted.
Coverage: 10 m2 / Liter